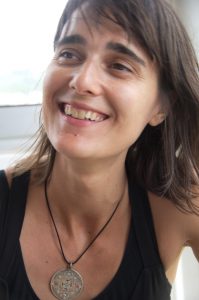 Claudia Fernandez
Biography
Currently based in Stuttgart, I was born and raised in Buenos Aires, then I lived in Barcelona for 14 years (1999-2013), and in Basel for 1 year.
I have completed diverse training courses for Yoga teachers:
Anusara Yoga in Zurich,
Hatha Vinyasa Yoga in Barcelona,
Prenatal and Postnatal Yoga in Barcelona,
Restorative Yoga in London
I am also fully certified as Personal Trainer, Group Fitness Instructor and Fitness Instructor.
Following an eight year career as a teacher in the fitness field, in Buenos Aires and Barcelona, I eventually discovered Yoga in 2004 and immediately fell in love.  In just a few years Yoga has become a way of life and a constant practice, as much off as on the mat.
Since 2010 I've been teaching Hatha Vinyasa and Prenatal Yoga, in Barcelona, Basel and now in Stuttgart.
I am deeply grateful to my extraordinary teachers who have guided me on my journey: Jeff Fisher, Ezgi Fisher, Gloria Rosales, Gordana Vranjes, Judith H.Lasater, Tere Puig, Donna Farhi, Swamini Pramananda.
Qualifications:
Anusara Elements™ Yoga Teacher, RYT 200 hr Yoga Alliance (Zurich 2014)
Relax and Renew® Restorative Yoga Teacher (London 2012)
Yoga for Pregnancy and Postnatal Teacher (Barcelona 2011)
Hatha Vinyasa Yoga Teacher, 200 hr (Barcelona 2009)
…
Further:
Personal Trainer (Barcelona 2005)
Fitness Instructor (Barcelona 2003)
Advanced Group Fitness Instructor (Barcelona 2000)
Group Fitness Instructor (Buenos Aires 1996).
About my classes:
My classes are open to everyone. I teach introductory Yoga and classes for higher levels in which I offer different options for poses and movement so that they can be adapted to your personal level.
In my classes, I integrate elements from different styles of yoga. In each class, we practice physical postures (asana), different breathing techniques (pranayama), and dedicate time for meditation and total relaxation.
My classes are physically challenging; however, I take into account individual needs and respect the physical limitations of each person. During my classes I encourage my students to focus on self-awareness and presence, with the intention that they push beyond the physical aspects of yoga so that they can apply the state of presence in their day to day lives. My goal is for my students to leave class feeling a sensation of well-being and relaxation.
Save